the
hot air balloon festival
is an anticipated event for many. Last year, i intended to go but due to lack of companion, i've let it slipped away. then a friend, mharc, sent me a message thru yahoo messenger: "hot air balloon festival in clark, pampanga on valentine's day, wanna join?" she tried to convince me and somehow, i committed myself to it. it would be a great reunion for me and my friend since we didn't see each other for about 6 to 7 years. then the thought of hot air balloon... wow, let's see! i've put everything on schedule and invited another friend to join us.
we agreed to meet at 3:00 in the morning on saturday, february 13, 2010 at starbucks at crossing edsa. i arrived at the meeting place earlier than expected. i've tried to call my friend and they were coming in a little late, so I got my mint mocha. the crossing area which I knew was full of pickpockets and snatchers, is now well-lighted and has many surrounding establishments. crossing, as they called the area along shaw boulevard, was a place i was so scared of to go. the presence of the bpo building and call center offices made the area safer to the public.

it wasn't a long wait until my friends arrived. we waited for my friend's sister too! she had a car and we rode on it.

we were so late that my friend's sister had to drive 120 or 130kph. "whaaa..." i thought. i've put on my seat belt though. it was a frightening ride although i was somehow used to it because of some travel experience with some maniac drivers. my friend's sister was a cool driver as long as she's not deprived of her favorite coffee, starbucks frappe. it kept her awake although she just arrived from a flight from brazil and seemed quite jet lagged. we made it to the event just so in time. it's a good thing mharc bought our tickets in manila, which saved us from the very long line.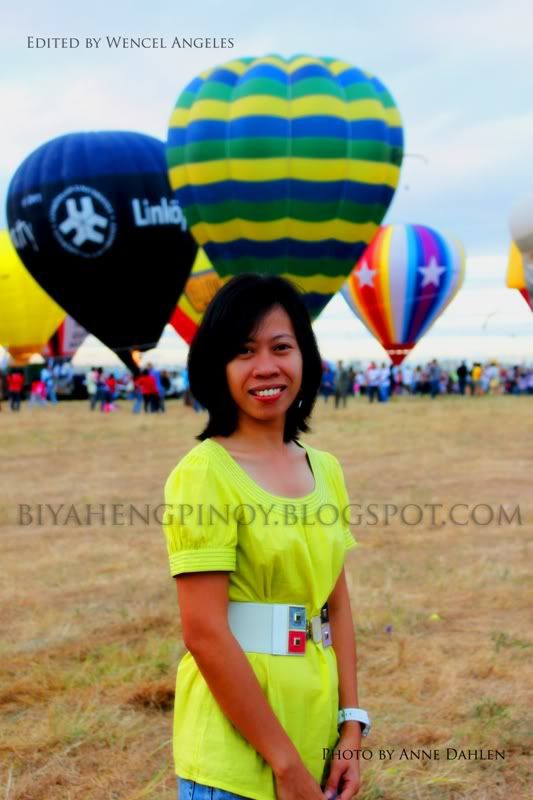 the excitement began. hot air balloons, so many of them! we had so much fun with all the activities – the wondrous flight of all the balloons at sunrise, the colorful candaba birds fly-in, the breath-taking paragliding exhibition, the thrill of flying kites, and the exhilarating sky diving exhibition. the hot air balloon night glow ended the day with fun-filled activities. many people were witnesses to these exciting and colorful events of hot air balloon festival. it was an all-singles' pre-valentine treat to remember, both for me and for my friends.