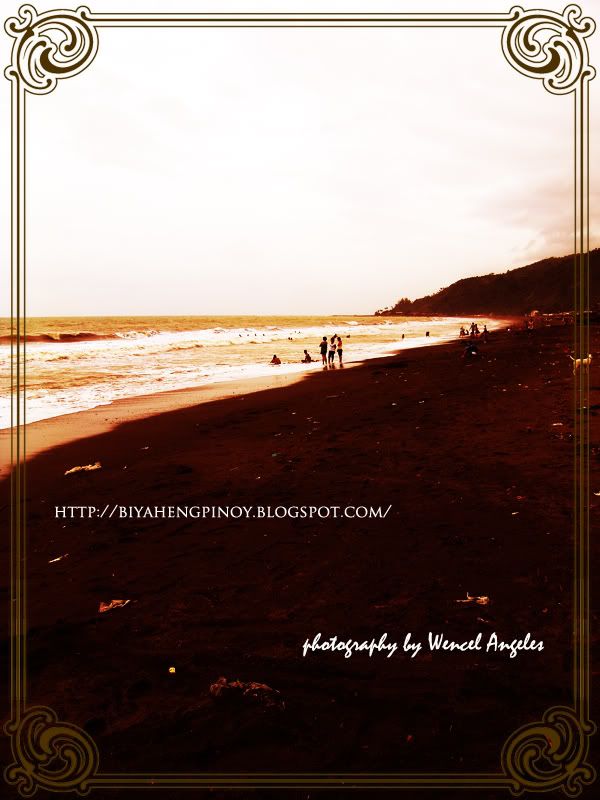 we left manila around 6 in the morning, hoping that everything would be okay, despite the typhoon that we're hearing from the news. we decided to take the other route to
quezon
province via
antipolo
city, which
i've
never taken before. i wasn't really expecting that i would be excited, but i did.
although i was very upset that we left manila too late, i felt better after seeing all the nice views along the way. we took the

sumulong

highway from

marikina

city, passed by

antipolo

city, then to the provinces of

teresa

,

morong

,

tanay

, and

laguna

. the feeling of being in an unfamiliar

territory

left me feeling thrilled, forgetting about the dismay that i had earlier. i looked out the window of our van and saw only greens. green fields, green trees, green plants, greens, greens, and more greens. three hours later, we've reached our destination,

long beach resort

, real,

quezon

province.

the resort was very simple. they only have huts with tables basically for eating, nothing fancy. they have no place to take a nap, or lie down. the only thing that I've noticed was that there were dogs everywhere. at first, i liked it that there were so many dogs, that we didn't have to throw away our food's leftovers, that we only had to throw them to the dogs and have them eat it. soon,

i've

realized that they would cause such uneasiness, as they all watched us as we ate our brunch. they were under our tables, our chairs, even near the beach. i hope that the management would do something to make them go away.

the good side of this trip was that there was no sun. no worries of getting a sunburn. it was actually kind of cloudy, with a little strong wind, which i didn't mind at all. i was so excited to see the beach, that i ran to the shore as soon as i finished my food. when i looked at the ocean, all i see was debris: plastic, leaves, woods, you name it, it's all in there. the water was so unclean, i was actually expecting to see a dead chicken floating in the water. i do remember seeing a measuring tape in the water. i know, i might sound too harsh, but i am telling you, all i saw was dirt.

the waves were really powerful and at times, fearsome. it kind of reminds me of the beach we went to during a trip of my family to la union province, several years ago. despite the killer waves, we all jumped into the water, thinking that it wouldn't hurt us, or at least kill us. besides, the only reason i came here was for the sea water, which i heard was very good for the skin. so not-swimming would never be an option. i really had to swim.

without the waves, our swimming trip would be such a bore. it made us quite busy with running, swimming, diving, and even smashing through it. i couldn't count the numbers of times that it hit my back so hard, my face almost hit the bottom of the water. i even remember it was so hard, it nearly broke my leg. hurtful as it may sound, but it was actually fun. lunch was served around 1pm. we've had seafood, shrimp with soup and pork

adobo

. we're not really scared to get swine flu. personally, i wasn't really happy with the food.

i was not so inspired to take photos that day. nothing much to take pictures of, aside from my family. maybe we just came at a bad time, and we saw the place in such a bad state. there were trash everywhere. i don't remember seeing a lifeguard around the beach. it was raining, so i couldn't take lots of photos.

despite my thousand complaints, the trip was enjoyable. i got to be with my family, take pictures of them, enjoy the filthy water, eat not so good food, and just hang out with them. maybe that's what

i've

learned from this trip. that no matter how things get worse, there would always be a good side to it, especially when your family is with you.